Second Short-term exchange of groups of pupils in Hoogeveen, The Netherlands
The Second short-term exchange of groups of pupils took place at the RSG Wolfsbos in Hoogeveen, The Netherlands 05-11 November 2018. Twenty four students from the three partner countries experienced the warm hospitality of the Dutch families, the family rules and the daily life for a week. They enjoyed eco transportation to school, as they were coming by bicycles. They were impressed by the well-equipped school. The organization of the Dutch colleagues was exemplary and the activities were very interesting. Students and teachers followed lessons in different classes. In mixed teams students discovered the city's attractions through recreational activities and were guided to a windmill. There was a daily evaluation of the activities. They collaborated in mixed groups to find an innovative, environmentally friendly business idea. They practiced English Language and developed digital skills and skills of life. The program of each day ended with an interesting trip to the surroundings. We also visited the Nemo Museum in Amsterdam and met the canals of the city by cruising along the Amstel River. Particularly interesting and pleasant for the teachers was the dinner with a Dutch family and the dinner at Ymie's house where partners prepared dishes of their country. The last evening we all enjoyed the farewell dinner, organized by the families, in the cozy classroom of the school. During our saying an article about our meeting was published on the local press. It was an unforgettable experience for our students because apart from improving their entrepreneurial and digital skills they developed strong friendship bonds with their partners.
Program of the meeting
2nd day at school – start project meeting – welcome by the headmaste
2nd day at school – the mixed groups
Gift exchange
2nd day – At the wind mill
2nd day – at the Town Hall
3rd day – project meeting
3rd day – following science lesson
4th day – project meeting – evaluation and preparation
4th day – project meeting – Students work in small groups. Each group makes a part of the final product
5th day – project meeting – evaluation and preparation
Group 7 – Robot soccer station
3rd day – dinner with the host families
The most prominent feature of Jungola is the indoor tropical rainforest hall Rimbula, which at 18,000 m2 (190,000 sq ft) is the largest zoo jungle hall in the world and the largest greenhouse in Europe.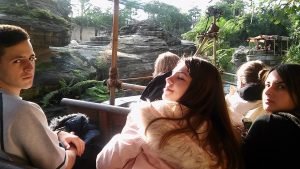 4th day – Traditional dishes from each partner country cooked at Ymie's house
5th day – at the De Bonte Wever, in Assen
6th day – at the NEMO Science Museum in Amsterdam NEMO Science Museum (from latin Nobody) is a science center in Amsterdam,  Netherlands. It contains five floors of hands-on science exhibitions and is the largest science center in the Netherlands.
6th day – Cruise on the Amstel riveer in Amsterdam
6th day – in Amsterdam
6th day – Farewell party with food prepared by the families
6th day – With the host families at the farewell party
6th day – Certificates of attendance
7th day – travel day – All with the same train