Fourth Short-term exchange of groups of pupils in Aliveri, Evia, Greece, October 14-20, 2019
Evia Island in Greece
Getting to know the Dutch students who will visit Greece. Guess the correct answer in the following Quiz!
Getting to know the Spanish students who will visit Greece. 

Watch the following short video

presentations

on our Facebook group page 

ERASMUS + KA2  GENERATION EUROPE WEB 

and answer the

Quiz!
Maria Luisa    Manuela    Martina Acosta
Victoria     Antonio     Daniel       Gonzalo  OSCAR
What do you know about Greece?
1st Day – Arrival of the Italian, Dutch and Spanish groups of pupils
2nd Day – Metting at school 
Welcome by the principal 
  Places we are going to visit

CREATIVITY CHALLENGE:  30 Circles exercise
The 30 Circles is a great warm-up exercise and also highlights the balance between fluency (the speed and quantity of ideas) and flexibility (how different or divergent you are)
TIME: 3 minutes
SUPPLIES: Pen and a piece of paper (per person) with 30 blank circles on it of approximately the same size.
INSTRUCTIONS:
Turn as many of the blank circles as possible into recognizable objects in three minutes.
Compare results. Look for the quantity or fluency of ideas. Ask how many people filled in ten, 15, 20, or more circles?
Next, look for diversity or flexibility in ideas.
Are the ideas derivative (a basketball, a baseball, a volleyball) or distinct (a planet, a cookie, a happy face)?
If people were drawing their own circles, did anyone "break the rules" and combine two or more (a snowman or a traffic light)?
Maria Luiza from Spain was the winner!
Culture based Tourism – Workshops (2 hours)
"From words to action" – "Turning Ideas into Action" – Set your own business
Group 1 (soap)  RUZALINA, DEWI, MANUELA, NIKOS, EDOARDO                                                                    
Group 2 ( (radio broadcasting)  FYLLENIA, TESS. MARIADELE, DIMITRIS, DANIEL
Group 3  (jewelry) MARILENA, ALICE, MARTINA, JACOPO, JELLE                                                                      
Group 4 (photography)   ZACHAROULA,  ILARIA, VICTORIA, JORAN, LUDOVICO
Group 5  (knitting)  MARIADA, HANNA, MARIA LUISA, ALEXIA, VASSILIS, GONZALO                                       
 Group 6 (greek dances)   AGGELIKI, MAYA, MICHELA, ANTONIO, SIMONE 
Group 7 (candles)   MARGARITA,  OSCAR, ANNA JULIA, NICOLO', DANNY
Commemorative plaque and Certificates to the experts
Teachers' meeting
Gastronomy – Lunch at PIATSA, Karavos to taste souvlaki. the traditional Greek fast
Type the first word that crosses your mind and submit it to the Answergarden.

Log in the eTwinning TwinSpace
Workshops at school
1st Day – Tasting gyros, the greek fast food at Karavos
1st Day – Αt AVALONA, the Women's Agro tourism Cooperation in Avlonarim Evia
2nd Day
\
4th Day Meeting at school – Developing digital skills at school 
What "sustainable tourism" means to you?
Type the first word that crosses your mind and submit it to the Answergarden
Break
4th Day Meeting at school – Working on study cases about sustainable tourism 
Discover Evia – Study cases  (2 hours)
You are α tour leader of 14 people. Make a program of a 4 days alternative tourism on Evia Island, with respect to the local community and the environment, choosing different kind of tourism every day according to the landscape. Create an infographic with the program.
You are given the opportunity by the local authorities to organise activities, sports by the sea, on the sea and in the sea with respect to the local community and the environment. You can be financed with 100,000 Euros. What would you do?
You are a bioclimatic architect office. A businessman wants to make an investment in our region (Evia Island) and he addresses himself to you to design a bioclimatic resort respecting sustainable development. Design the establishment. Take into consideration the management of water, heating, cooling of the rooms and waste management.
Group 1 (1b-3g)
Mariada, Hanna, Maria Luisa,  Ludovico
Group 2 (2b-3g)
Fyllenia. Anna Julia, Dimitris, Daniel, Mariadele
Suppose it is summer and there is a full moon next Sunday. Organise some events for the night at an Euboean beach with respect to the local community and the environment. Decide which authority you represent (a sports club, a cultural association, a trade association, a hotel resort).
Group 3 (2b-3g)
Marilena, Alexia, Martina Acosta, Jacopo, Joran
Υοu are the chef of an Euboean alternative tourist establishment. The clients want to experience local products and cuisine. Make a menu with breakfast, lunch, dinner and snacks.
Group 4 (2b-3g)
Zacharoula, Ilaria, Danny, Nicolo', Camacho
You have all inherited 10km2 coastal land from your grandfather on Evia Island. There is an olive grove, fig trees, a herb garden and there is a well. Discuss with your group how to develop this estate with respect to the local community and the environment. Find a name and a logo for your business.
Group 5 (2b-2g)
Vasilis, Gonzalo , Tess, Alice
Organise a tempting package of a holiday week in Evia for an international group of students of Archaeology. Navigate the internet searching for interesting ideas to organise a one week holiday of alternative tourism in Evia. Take into consideration where to go (special locations), what to discover (sightseeing), where to sleep (accommodation), what to eat (traditional tastes).
Group 6 (2b-3g)
Ruzalina, Dewi, Manuela, Nikos, Edoardo
Group 7 (2b-3g)
Aggeliki, Maya, Savvas, Antonio, Simone
The Department authorities with the collaboration of a company want to build a waste processing plant in your region (Evia Island). The local authorities do not agree to have it near their town. How can this problem been solved with respect to the local community and the environment and with contributory benefits? Some of the inhabitants are worried about the degradation of the area. What are the pros and cons of this decision?
Group 8 (2b-3g)
Margarita, Victoria, Michela, Jelle
Commemorative plaque – Αναμνηστική πλακέτα
Certificates of attendance – Βεβαιώσεις παρακολούθησης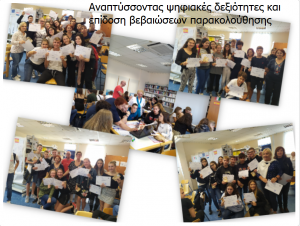 4th Day – Outside activities – Visit to the Biofarm of Mr. Zarganis
4th Day – Outside activities – Visit to the enterprise of K. Karavasilis "Dry figs of Kymi"
5th Day Esucational trip to Athens – Guided tour to the Acropolis Museum
Guided tour to the Parthenon
6th Day – at Styra Resort
6th Day – farewell party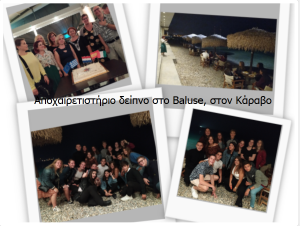 7th Day – Departure of the delegations
Departure of the Spanish
Dwparture of the Dutches
Departure of  the Italians
Evaluation of the meeting
Certificate of participation